<![if !supportEmptyParas]> <![endif]>

| | | |
| --- | --- | --- |
| Newsletter | <![if !supportEmptyParas]> <![endif]> | No. 1 in 2009 |
Annual Report - 2008-2009
T.E.L.C. Frolich Home for Children, Pandur
"I will praise You , O Lord my God, with all my heart and I will glorify Your name forevermore, For great is Your mercy toward me."
Psalm. 86.12 and 13 a.
*** *** *** ***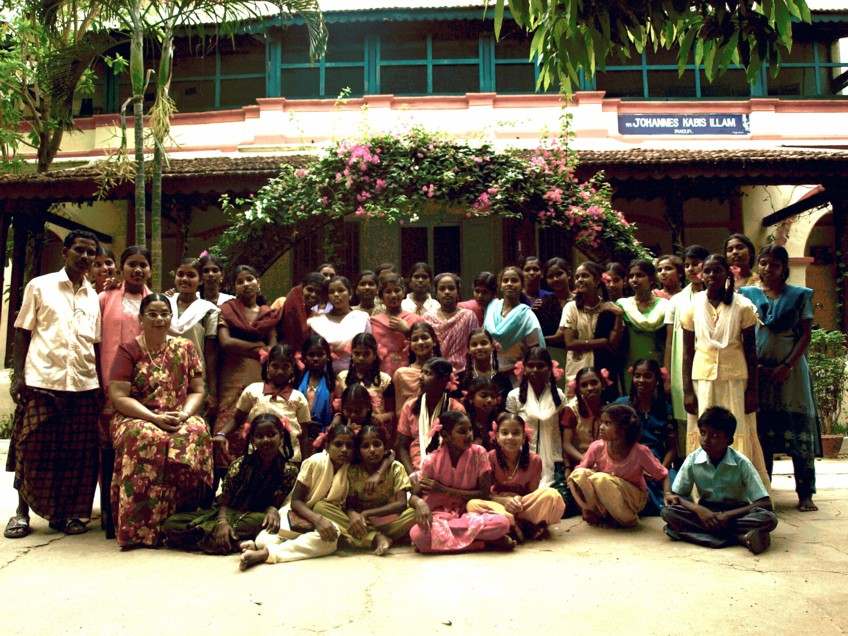 Frolich Home Children, Manager and Co-workers in March 2009
Dear Fosterparents, Friends and Donors,
"In the beginning was the Word and the Word was made flesh and lived among us". So begins the Gospel of John. So also began the Project of `Amy Carmichael' in the TELC Frolich Home for Children in Pandur in 2004. In the beginning it was the Word of God that set everything in motion. And again and again it is the working of this Word through the Holy Spirit that is visible in the Project of ` Amy Carmichel.' It set people in motion to turn that word into action, to give ideas a visible structure, and to attempt something new. So, the Project of `Amy Carmichel' is one of God's action growing out of His Word and shaped by Mr.Winfried Stelle, the `Co-Ordinator and Founder' of our Amy Project who saw and see himself as His instruments. How did it happen? Who is he? What goal does this organisation that calls itself `Amy Carmichael' have?
This my Annual Report gives the answer. When the Kindernothilfe had withdrawn its support for our Frolich Home in 2004, Mr. Winfried Stelle , one of our former girls' fosterfather was in our Frolich Home, Pandur. On hearing the information that the Kindernothilfe had withdrawn its support for our Home, he came forward to find out five sponsors for five children. The very first talk with Mr. Winfried Stelle brought fruitful results. He took up the idea of foster ship and already in October 2004 through his influence, he was able to arrange for the five children foster parents. By and by the number has been increased and today we have foster parents for 55 children. He made a film `one day in Pandur' which impressively detailed the need of our girls in the Frolich Home and helped the people to open hearts and hands for the new foster ship work. His wise counsel, commitment to life within the church and connection to leading people contributed substantially to the Amy Project's rapid growth.
He is able to inspire an enthusiastic response from many people. He supported the ´Amy Project' with all his energies, but soon the workload became too great. Because of his tireless and unceasing effort, we have now 55 children under support. Here we see how again and again God leads individuals, independent of one another along His way and how the deeper connection of this leading, remain hidden for years. The fostership- relationship's purpose is to create a concrete and personal relationship between the foster parents and the children.
Many letters had to be written to the foster parents, questions answered, reports and advertising leaflets put together, along with the work of financial management, translation of German Letters into English to be sent to the foster child, convening foster parents meeting, sending news letters etc .are his main work for our `Amy Project'. All of this work takes much of his time and energy as the workload became too great. He gives his full abilities, strength and energy to the Amy Project Work. His spontaneous help is very much appreciated. For his help it is impossible to run our Home and feed the children of our Amy Project. My sincere and many thanks goes to him through this Annual Report and to all who are shouldering him with this heavy load of work.
This Annual Report brings my loving greetings to each one of you in the Almighty Name of Jesus Christ. By the time this annual Report reaches you, it will be beginning of the 6th month of this New Year. We look back on the old year with praise and thanksgiving for He has been faithful in providing, protecting and preserving our children in the Amy Project.
All the needs of our Home were met and we have lacked nothing because of the love and faithfulness of our Heavenly Father and His Supporters . We are grateful indeed for your prayer support for the work in our Frolich Home and especially for our children's wellbeing - day to-day lives' expenses for their accommodation , clothing, medical expenses, study etc.
During these days, we are hearing so much about the crumbling global economy but we give thanks to God that we can completely rely on God's economy. Despite this, He has been mercifully meeting all the needs of our ` Amy family `and answering our prayer. We thank all our foster- parents, donors and friends who all support our `Amy Children's Project in the Frolich Home through your faithful prayers and loving gifts. Thank you also for all your lovely Christmas, New Year and Birthday Cards you sent to our children with words of love, sharing news of yourself and your family. They not only remember you in their personal prayers but also pray for you in their Group and evening Family Prayer. Those of you who are too busy with your own family life do not manage to write but your foster child knows that you do remember her. We all are indeed very grateful for your prayers, letter communications and gifts throughout the year.
The terrorists forces which are threatening the whole world and the recent terror attacks claiming so many innocent lives in Mumbai make us realize more than ever that we are indeed living in most uncertain times. But praise God that we know and believe that our God is reigning over the affairs of all the nations and we cannot but see that He is directing everything towards the fulfilment of His greater purpose. You all know very well about the ethnic conflict in Orissa and Karnataka between Hindus and Christians which started in last August and is still going on. From that Orissa we have a volunteer Miss Mirjam sent via ELM Germany for 6 months whose service is greatly appreciated and honoured. She is an all round worker, helps wherever needs arise. In the morning she helps mostly in the creche and when there is much work in the office, she comes to the office. In the evening hours when the creche is closed she helps us in our office especially at the time of the closing of the Academic and Financial Year Closing with the accounts, budgets preparing for the New year etc. Through Mirjam also we could hear much happenings in Orissa. Our children take time to pray for the `sufferers` there in groups who counted them as their co -brothers and sisters.
New Admission: In June 2008, we did not admit any new children in our Home as we had already more children than allotted in our Home even though there were few deserving cases who needed shelter and who were in moral dangers. Sadly I had to say `NO' and had to send them back with heavy heart.
School Academic Performance: Last year in 2008, two of our Non-supported girls wrote the Plus II (12th standard Government Examination). One of these girls took the 2nd place in the Plus II Govt. Examination in our TELC Kabis Higher Secondary School. Likewise K.Kanimozhi, a non-supported girl in X standard of our Home took the 1st place in the Government Examination in the same school which gave honour and joy to our Frolich Home. Out of the 10 girls in X std, last year, 8 passed with good marks and 2 failed and did not like to repeat. One girl joined a company and the other is learning computer in her own place. One girl failed in IX std. and the parents are keeping her at home and are arranging marriage. The Government has introduced measures to promote English- Language- Teaching based on its recommendation and have as a subject from Class I. The Education Department is guiding English Teaching in schools by developing appropriate curriculum and material and taking up the training of teachers with skills in English providing more tools, CD cassettes with spoken English and materials to improve the English. Most of the children are from remote villages and, therefore, they are thought to be not clever enough to study, as their parents are illiterates who were not educated enough. But on the contrary, they are the bright girls who could study well and pick up the lessons so easily. We have arranged a teacher from outside who could give tuition /extra coaching for the X and Plus II children to help them cope better with their studies. Most of the children are weak in Science and Mathematics. English they could understand from their school books.- the only thing is they
are reluctant, delicate and are afraid to talk in English in the public. But now with the Spoken English Cassette, CDs, Dictionaries Tamil and English and on hearing the pronunciation from the CDs, etc. many could be benefited despite making mistakes which could be easily corrected with funs and jokes.
Summer Bible School:- As usual every year in Summer, the 10 days Bible School was conducted by the 15 Trained Teachers for 10 days in our church. The children learnt songs and verses based on the theme' Abide in me' and we were working with them to produce a programme for all to enjoy. The last day was ended with the many cultural programmes.
Garden:-Our girls took lessons in compositing, rainwater harvesting and they also learn basics of solid waste management and use of sewage treated with enzymes for gardening. A group of girls took lessons in home composting how to minimise the volume of garbage generated in houses, rainwater harvesting and using sewage for gardening after treating them with enzymes. As part of the World Earth Day, which offers complete solutions to day-to-day problems faced by people, living the small independent houses. The girls learnt about the basics of solid waste management and how it could be effectively handled to bring down global warming. The girls also were briefed on how it was possible to recycle every bit of kitchen waste or sewage generated in each time. Manger Miss Mano converted garden and kitchen waste into manure through organic composting using earth works. Fish, poultry and meat waste generated in hostels, while fish waste is allowed to soak in a mixture of jaggery before it becomes manure that is used for coconut trees, bones from the meat waste are dried, crushed and used as manure. A demonstration was given by Mano to the girls of introducing the bio-enzymes inside the septic tank and she drew a bucket of treated water from a filtration pit attached to the septic tank. Devoid of any foul smell, the water was then poured in the garden without any harmful effects to the vegetations or environment. We could raise several varieties of herbal plants in addition to successfully cultivating and harvesting many vegetables, including tomato, brinjal , greens, banana, pomegranate, lemon, oranges, guava, coconut etc. Our girls were convinced that it was possible for them and they teach the parents and the people in their village to stop throwing waste outside their house or discharge sewage in to the streets.
By the way out of the income being Rs.7,200.00 earned by the children from their kitchen garden, 2 white clay made cranes were purchased and placed in the middle of the garden which gave our children much joy, but disappointingly few days later, a monkey stood up on the neck of one of the cranes and broke it into 2 pieces which made the girls very sad.
But now with a s strong gum we have sticked it together and now both the cranes are standing in the middle of the garden. Many girls cultivated out of their own interest fruit bearing saplings in hidden place for their joy and took me one day to the specified place to show me their small plot of garden. I greatly admired, enjoyed and appreciated their interest in gardening.
Rain Water harvesting:- As per the Order of the Tamilnadu Government, rain water harvesting pits had been constructed in all the houses to lead the rain water falling on the roof to fill the aqualung underground. This construction of the rain water harvesting pit could be dug in few of our places through your kind donation only. We praise God for the good water supply He has given us through the rain water ±harvesting project , completed last year.
Our bore-well in the compound which had been dry for years, now has enough water even though we cannot use it for drinking and kitchen use. But we can use it for watering the garden as much as we could and can use it for bathing and washing our clothes etc. For drinking and kitchen use, we have to use the Over-head -tank water only.
Electricity and Water:-Throughout the year besides the `Festive Season' in December and the beginning of January because of Christmas, New Year and Pongal, we were given electricity the whole day. Just for few minutes to change the phase, the power went off and was given immediately. But the same condition started again as it was before upto November and now again from the middle of January till today- which very much affected and affects our routine work. It is everyday nearly 3 to 4 hours that we have to face the problem. Apart from this, due to frequent electricity- power- cut -down and fluctuations, we had to change now and then the tube and bulb lights which got spoiled soon and needed replacement.
As we have had very good heavy showers during the North East Monsoon last year, the bore well inside our compound has till today enough water which we can use for the garden , cloth washing and bathing. For cooking and drinking purpose we have to get sweet water from the Town Panchayat Over-Head Tank only. We had a great `water war' in April this year and the Town Panchayat Over-Head-Tank pipeline which leaded to our campus had been fully sealed and blocked. This means we would not get anymore the water from the Town Panchayat. So until the old motor was installed our girls went outside to fetch water from the hand pumps on the streets both in the morning and evening in plastic pots for cooking and drinking purpose. For other purposes, we could use our bore well water. So we had to buy one dozen plastic pots to carry water. At the same time the plumbers found an old motor
lying waste under the ground, having not used for more than 12 years and wanted to repair it.
With the efficient plumbers and with the help of other workmen, the old motor which had been rusted and corroded , could be replaced with new fittings and is now in use for every purpose for which I am very happy. This all could be done only with your kind support which needed finance. Thanks to all our friends and donors, enabling us to get sweet water for every use after installing our old motor. So we had a nice `Praise and Thanksgiving' on the spot with the plumbers and other workmen as well.
Major Repairs: A new Battery being Rs.6,548.00 had to be purchased for the Generator operation after selling the engine for Rs.500.00 . Our coconut and grocery store rooms had to be replaced with new tiles since the coconuts and the coconut leaves fell on the roof and broke the tiles. Also to prevent squirrels entering, we had to protect the room with wire mesh. So including the cement, the wages etc. the cost was Rs.5.790.00.
We had purchased also a 5 litre Grinder for Rs. 13.000,00 for the girls to make doses, chapattis etc. on Saturdays and Government Holidays which they enjoy and it also helps them to learn making these items. On these days the 2 cooks have half-a-day leave.
The cement small platform needed plastering which is on the channel leading from Bungalow to Boarding. When auto rickshaws and cars ran over it, they broke the cement platform into pieces which cost Rs. 3.000,00 nearly. All these purchases and repairs could be done because of your kind support to our Home for which I'm grateful to you.
We were not supplied Cooking Gas Cylinders since this April and we had to cook outside with firewood. For this 300 tiles were needed . These tiles were carried by our girls from one brick-kiln which is a 5 minutes walk distance between our new cooking spot and the brickkiln and our girls carried the tiles quite joyfully. This was done on one Saturday when the children were on leave. Just to protect the firewood shed for cooking during the rainy season, the workers put on asbestos sheets as roof. This work costs Rs.3,500.00. I myself went to the Social Welfare Department at Chennai to meet the concerned officer with the application for issuing the Gas Cylinders. I was told that they have like us more than 50 applications from all over Tiruvallur and are awaiting sanction to issue orders for supplying Gas Cylinders. So none of the Private or Government Hostels, Hospitals got since April Gas Cylinders and are awaiting orders. Many of us and also they went to the Collector Office to complain but they also got the same reply as I wrote now here.
Medical Aid:- Our children had again sufficient food due to your financial support .They had gained weight and there was less sickness. Despite of inflation and rising prices every year more and more, there was no scarcity of grain and pulses for our children since again it was possible to obtain the necessary quantity of rice, (the main staple food in India), wheat (more rich of vitamins) and sugar for one year with the permission of the Government. That is
the Civil Supplies, maintained by the Government. For this we have to send fresh application every year to the District and Taluk Supply Officers which takes such a long time every year to sanction the quantities of food- commodities what we applied for until they come and inspect the Home, the Attendance Register of the children, the Stock and Issue Register, the Cash Book and other Records pertaining to the food commodities.
Our girls also got fresh leafy green vegetables, various kinds of pulses, raggy ( a millet), egg, chicken, milk and meat. Especially those who were weak , they got daily milk and egg in the morning before they went to the school and also vitamins. We have a small TELC Dispensary, very conveniently, opposite our Home. Our 2 Staff Nurses were always ready to help us with the sick children whenever help was needed.
Work Experience:- We also tried to purchase at the appropriate season through Cooperative stores and wholesale dealers the necessary food stuff like Coriander, Dhal, Chillies and Tamarind. Our good store-rooms prevent that there is loss through insects or otherwise. A big old Mango-tree in our garden - not an outstanding variety - gives us year by year many mango- fruits (approx. 2000 to 1500 fruits) which are just the right kind to make pickles and which can be kept for months in big earthen- jars and are very welcome during the time when there is scarcity of vegetables. Our girls helped with cutting mangoes and to make pickles also with the lemon. There is a group in turns in-charge of issuing food commodities from the store- room to the kitchen staff as per the menu prepared daily. Also they learnt to check the bills and the weight of the food commodities on arrival from Tiruvallur to our Home in van. We have oil cotton seed tree and from the shells the children could peal out the nuts and inserted the clean cotton in the pillow case for selling which gave some income to our garden.. From the coconut leaves, on weekends the girls made brooms and the rest of the leaves could be used for cooking.
Sad event:- The mother of S.Kalpana (AC No.04-07) died few months back in a rail accident and Queen's father (AC 08-08) an alcoholic, in this month, leaving behind 2 sons and 2 daughters.
German Visit:- I was invited by the Evangelical Lutheran Mission Leipzig (LMW) to visit the Lutheran Churches from the 19th June 2008 to 10th July 2008. My thanks go to Ms.Ute Penzel, the India Secretary, LMW who arranged everything very nicely for my stay in Leipzig etc. and took me to the important places Pulznitz and Wittenberg for site- seeing and to other churches as well. Then I had visited the Evangelical Lutheran Churches in Mecklenburg, Thuringia and Saxony. I was so happy and am grateful that I could see many places such as churches, castles, old buildings, shopping and market places accompanied by our Project Coordinator Mr.Winfried Stelle, who arranged everything systematically for my stay when I was in Thuringia. I could attend the Foster- parents meeting on Saturday, the 28th of June where I could meet a number of foster parents, friends and others and could talk about our `Amy Project `and the need of sponsors for the 20 girls who are given to us from the OKE who supported our 20 girls for the past 2 years. My many thanks also go to the Sisters of OKE for their loving support to our Home till December 2008.
Here I have to say my many thanks to Mr.Winfried Stelle, the Coordinator of our Amy Project who so lovingly and efficiently arranged everything very comfortable for the Fosterparents meeting, visitors' accommodation, my stay etc. which must have taken much of his time, strength, energy and still more. I was cared for lovingly in his place and I lacked nothing. I wish to thank all our loving friends and sponsors of our children who donated me a beautiful Digital Camera as a present for the work in the TELC Frolich Home for Children and the TELC Boys Home in Pandur. Also you gave me many presents for your foster children for which our girls are very thankful to you. I was very happy that I had the chance of visiting with Mr.Stelle, the Co-ordinator Mrs.Kerstin Gassmann of the` Letter Friendship Students' and the `Gymnasium `Am Thie' at Blankenburg. I enjoyed speaking with the students. They took me to their class-rooms, showed their projects etc. and presented to me nice scenery of their place. Our girls want to have in future also `Friendship Letters'.
Out of the 20 OKE girls, we have now 15 foster-parents till April this year and I wish to thank you those who came forward to support our 15 girls.
Last but not least: The high light of 2008-2009 was, that our 21 girls could be confirmed on the 3rd Sunday in the Advent on the 21st of December. At this time our `Amy Carmichael' Project Co-ordinator Mr.Winfried Stelle came to India to take part in the Special Service with his 2 friends. Many thanks to the foster-parents who gave special giftsgreetings and wishes on this special day to your children through Mr. Stelle. We all were very happy that he could represent all our foster parents on this day. The following day, all the children and staff in our Home were provided by Mr. Stelle a delicious chicken biriyani with idly which we all enjoyed.
At long last, on the 14th of May, 2009, fresh permission is granted to demolish the old buildings and to prepare the Revised Estimate and Plan for the Multipurpose Hall with the help of the Chief Engineer TELC and Mr.Maher Antony whom you met when you were here.
I hope, from now onwards the proceeds move, but slowly.
Conclusion:- Thank you for all your contribution, love and prayer support for our children which lead to a life of independence and to be of value for the improvement of the country, socially and economically. Again this Annual Report has become too long and is more a conversation with you, the dear friends and foster -parents of our children. I greet you all with thankfulness and pray that our Lord may bless you, your family and your service.
Yours sincerely
(Raja Manohara)
Frolich Home: 26.05.2009
-------------------
<![if !supportLineBreakNewLine]>
<![endif]>
T. E. L. C. FROLICH HOME 20903 (Girls)

PANDUR POST (Via) KADAMBATHUR.

<![if !supportEmptyParas]> <![endif]>
<![if !supportEmptyParas]> <![endif]>
<![if !supportEmptyParas]> <![endif]>